Posted By Admin on June 25, 2013
Quick reminder…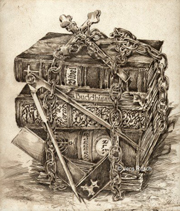 The EA degree IS Tomorrow night, Wednesday June 26th.
Please try to attend, as this is not only a Degree Night and it's important to show our newly elected Candidate our support, but it is as well the last meeting before we go dark for the summer
We will have Waffle Breakfast Tickets available this night, to give everyone the opportunity to sell tickets through our dark months.
As you all know, the Ticket sales are Crucial to the success of our Fund Raising, so lets all do our part and get these tickets sold.
Gordy's Brat Stands starts this weekend for our lodge, If you haven't signed up to work and wish to do so, PLEASE get on the list. If you can't make it to lodge, but still want to be on the work crew, please contact me and let me know.
I hope to see as many of you as possible tomorrow night if you can make it.
Fellowship Dinner will start at 6pm, We'll be having Brats.
Meeting to start sharply at 7pm,
we'll get business done quick and move on to the degree and try to get
everyone home at a decent time.
Thank you Brothers, I hope this message finds you all well and in good spirits
Fraternally,
Bro. Kevin D. LeQue W.M.